Dr. Wiener is a prominent psychologist on NYC's Upper West Side.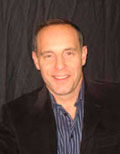 He earned a B.S. degree in Human Development from Cornell University, and a Ph.D. in Clinical Psychology from Hofstra University. Dr. Wiener has been in practice for fifteen years and specializes in cognitive behavioral therapy. He helps his clients to overcome problems related to anxiety, depression, obsessive-compulsive disorder, and anger management. Dr. Wiener is also an experienced couples therapist and sport psychology consultant.
Dr. Wiener helps his clients to make lasting life changes without medication. His office is conveniently located in NYC's Upper West Side, on the corner of Amsterdam Avenue and West 79th St. Call today to begin the process of working towards your goals and improving your mental health.
Member of the American Psychological Association, the Association for Behavioral and Cognitive Therapies, Association for the Advancement of Applied Sport Psychology and the Anxiety Disorders Association of America.